iOne Resources, Inc is proud to announce that it has achieved the second year of ISO-9001:2015 certification through auditors TÜV Rheinland of North America, a globally renowned third-party testing, inspection, and certification company.
With an internationally recognized certification of company's quality management system, according to ISO 9001  the company can gain competitive advantage and improve its market entry chances. In addition to fostering a strong customer orientation, certification also offers  customers and business partners a valuable decision-making aid. The company as a whole can also increase efficiency and improve internal and external processes and structures. This allows the company to achieve considerable cost savings while minimizing your liability risk. It can also benefit from increased employee motivation through better communication and more readily available information.
"Obtaining ISO Certification is one of many milestones that we have been able to achieve very rapidly," said iOne's CEO Alberto Catangui and we are happy that we again achieve it this year. As company that provides enterprise grade solutions to our growing clientele, we need to standardized our procss and  equipped our manpower to be able to provide quality of service.
TVU's certification experts knows that a well designed workflows contribute decisively to the quality of our products and services. ISO 9001 demands that a quality management system define who is responsible for which quality-relevant activities and which procedures must be followed.
To establish effective quality management in the company, we take into account our specific requirements and perspectives. The standard also requires a control loop, which involves constant internal re-evaluation of the system, promoting a continuous improvement process (CIP).
With its process-oriented approach, a quality management system according to ISO 9001 is suitable for all industries and companies – from start-ups to global corporations. We have experience partnering with organizations of all sizes and from all sectors and are able to provide the resources we need to gain an ISO 9001 certification.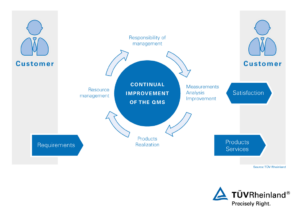 As part our company's transformation milestone, the ISO certification provides an in-depth understanding of processes to achieve efficiency in running the business and at the same time serving our stakeholders who rely on the quality of services that they truly deserves. said Richard Grimaldo, lead ISO Internal Auditor and management representative.
iOne Resources, Inc, achieve its ISO 9001:2015 in 2021 and hoping to achieve the flying colors in next year's Audit.